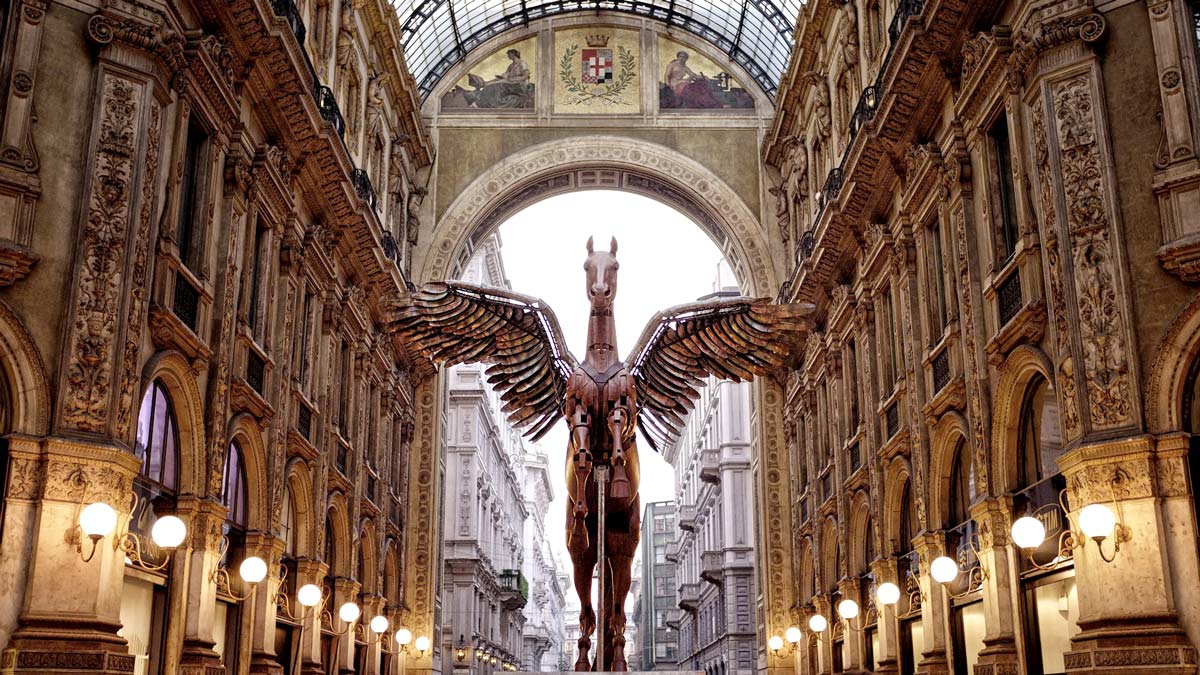 Milan is one of the top fashion cities in the world but there is much more to see in this trendy, urban metropolis – it is also home to an incredible patrimony of art and culture which includes one of Leonardo Da Vinci's greatest masterpieces: the Last Supper.
Gran Tour of Milan
Guarantee your visit to see one of the most famous works of art in the world, Leonardo da Vinci's 'The Last Supper'. Choose this best-selling tour and be guaran- teed advance booking and skip the line tickets. Plus you'll take a half-day tour of the impressive city of Mi- lan. Leonardo da Vinci's masterpiece, The Last Supper is housed at Santa Maria delle Grazie in Milan and has earned a spot in the UNESCO World Heritage List..But there is plenty more to Milan than Leonardo's master- piece! Your half-day sightseeing tour of Milan also in- cludes a walking tour, introducing you to Italy's most stylish city.Stop by the alluring Galleria Vittorio Eman- uele II shopping gallery, a 19th century glass vaulted shopping arcade. Brimming with fashionable shops and cafes, it is often called the 'salotto di Milano' or 'Mi- lan's drawing room' for its importance over the years as a common meeting point for the people of Milan. Visit the medieval Sforza Castle. A grand medieval Cas- tle and fortress, the Sforzesco was once seat and res- idence for the ruling family of Milan and now houses several of the city's museums and art collections. Next, tour the splendid Duomo, one of the world's largest, most striking Gothic cathedrals. Some 135 spires and 3,200 statues are crammed onto the roof and facade of the building. Finally, visit Milan's most famous Opera House, the fabulous La Scala theatre. Founded in 1778 and still in use, some of the world's greatest musicians and opera singers have performed here including Pa- varotti and Giuseppe Verdi, whose famous operas such as Falsta often premiered in this very theatre. Your en- trance ticket provides 24 hour admission to the theatre and museum so you can return the next day.
La Scala Museum and Theatre Walking Tour
La Scala Theatre and museum tour is a unique opportunity to discover the secrets of one of the most famous opera houses in the world. With an expert guide, visit the La Scala Museum, home to a fascinating collection of costumes, musical instruments and portraits.
Our guide will lead you to discover the museum rooms, with curiosi- ties and anecdotes about great artists who performed on this important stage. You will also dive into the magic of theatre facing from the boxes to admire the beautiful room with the valuable crystal chandelier and the stage. With a little 'luck you might see the artists' rehearsal from the boxes of the theatre!
Other City Centre Tours
Football Lovers Tour
"Maison Milano" Dinner Show
Outside Milan
Lake Como and Bellagio
Venice from Milan
Verona and the Lake Garda (Sirmione)
Cinque Terre
Genova and Porto no
Lake Maggiore
Bernina Panoramic Train to St. Moritz
Shopping Tours
Serravalle Outlet Designer
Foxtown Outlet (Switzerland)
Vicolungo Outlets
Fidenza Outlet
Use the form below to receive full information and pricing