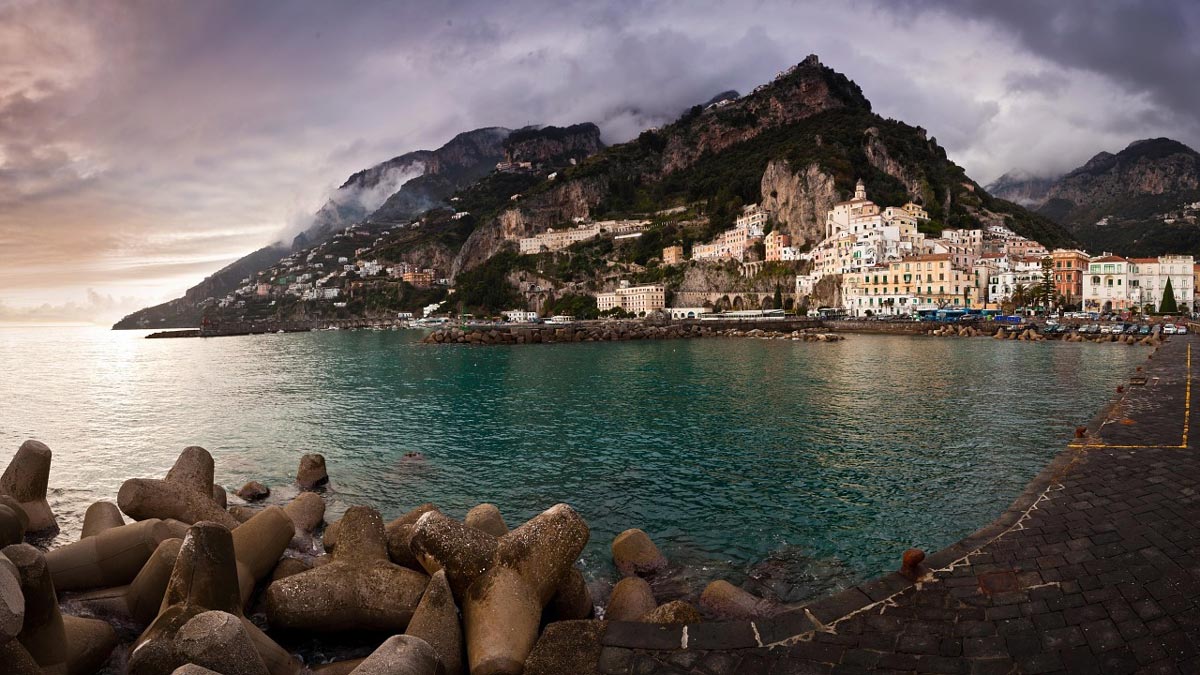 Taste of amalfi Coast
---
DAY 1 – NAPLES – SORRENTO Private transfer from Naples airport or station to Sorrento – Overnight
Private transfer from Naples airport or station to Sorrento – Overnight
DAY 2 – SORRENTO – Private Sorrento walking tour through food shops and artisan work-shops
After breakfast, at 09.30am, your local guide will call for you at your Hotel to take you on a special walking tour of the town. Besides giving you information on the origins of this lovely town, your guide will take pride in showing you the area of Sorrento where the local ladies prefer to shop for food.In fact, although the town has a few supermarkets, the local people still prefer to buy fresh ingredients every day, based on what they intend cooking, in the local individual shops : fish-monger, butcher, baker, green-grocer and so on. The colorful streets of the old town are lined with this type of shops. As you walk you will have the opportunity to taste some of the local specialities : bread, cheese, salami, fruit, ice cream and limoncello. One more interesting aspect of the local tradition is represented by handcrafts. The local artisans can still today be seen at their desk making sandals, painting ceramics or inlaying wood. This wall will be at a first hand experience of the local way of live.
DAY 3 – SORRENTO – Private full day tour to Pompei and wine tasting at the foot of Mount Vesuvius
A short drive will take you to the nearby town of Pompei where your local guide will show around the remains of the ancient roman City buried by the eruption of Mount Vesuvius in the year 79 AD. Enjoy a step back through the Centuries to see one of the World's best examples of roman civilization. Continuation to a winery situated at the foot of Mount Vesuvius. Visit of the vineyard and the winery, followed by wine tasting including 4 different types of wines, accompanied by bruschetta (roasted bread with chopped tomatoes) salami, cheese, casatiello (traditional cake done with salami, cheese and pepper), sliced bread with olive oil, spaghetti with tomato sauce and dessert (the Pastiera Napoletana). Return to Sorrento and overnight.
DAY 4 – SORRENTO – Private full day tour to Positano, Amalfi and Ravello by driving escort
Enjoy a drive along one of the most beautiful coastlines in the World . The first stop will be in Positano to enjoy the view of this jewel of the coast from the top. Continue the drive along the coast to Amalfi , the town which has given the name to this drive .Enjoy a walk around the town to see the lovely mosaic façade of St. Andrew's Cathedral and then climb to Ravello . This delightful quiet village has inspired artists from all over the world : Wagner and Gore Vidal to name just two. Enjoy some time at your disposal for an optional lunch overlooking the sea. Thereafter return to Sorrento and overnight.
DAY  5 – SORRENTO – Breakfast and private transfer to Naples airport or station
Inclusions
4 nights in Sorrento at 1st.class hotel
Breakfast daily
Private transfers
Private English speaking guide + Tasting of local product in Sorrento
Private English speaking local guide in Pompei + Entrance fees to Pompei + Wine tasting
Private vehicle with English speaking driving escort to Positano, Amalfi and Ravello
 Not included
City taxes to be paid at the spot
Hotels (superior category)
Hotel Michelangelo or similar