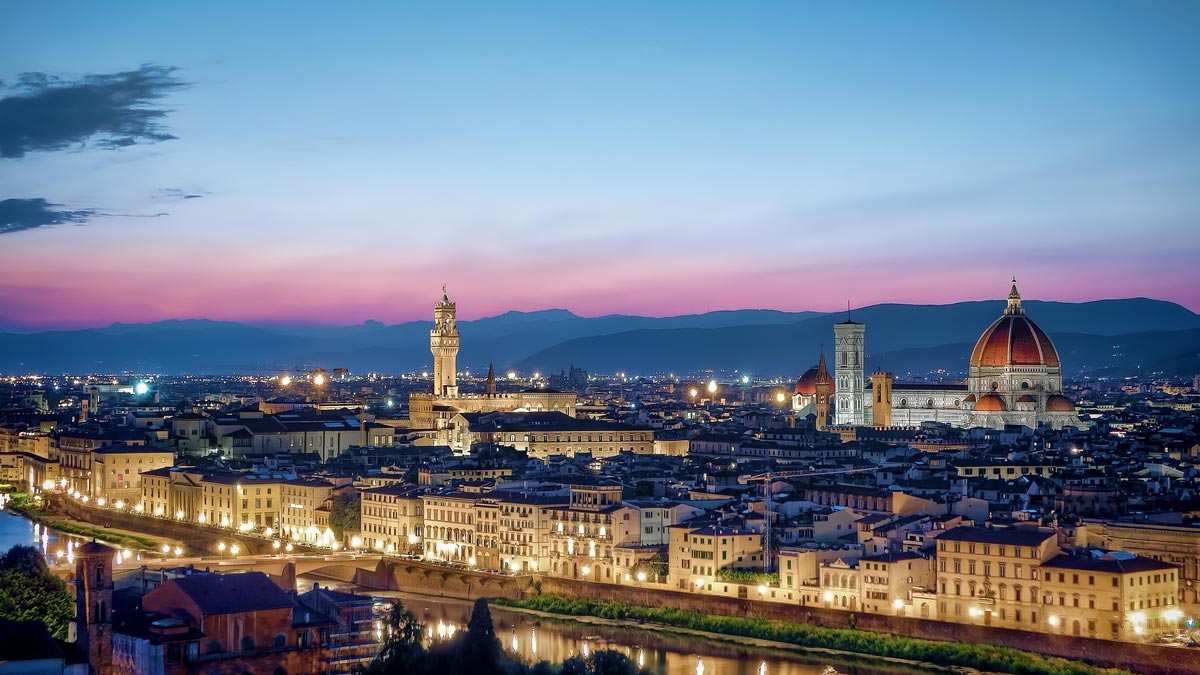 Visit the Main Sights of Florence, the Accademia Gallery and the Uffizi Gallery Museum
The first part of the tour starts with a guided visit to the Accademia Gallery. You will learn why the David is the most recognizable symbol of Florence and what it used to represent in his time. How did the genius of Michelangelo meet the challenge of extracting the pathos of a being and fixing it forever in time in the Pietà, or the famous Prisoners who still seem to struggle free from their marble blocks? You will have the answers to all your questions.
Get the chance to have a close encounter with timeless works of art and get the inside story of the life and times of this consummate artist. After the guided tour you will have some free time to wander around on your own and some free time to have lunch (not included).
The second part of the tour starts in the early afternoon from the Hard Rock café near Piazza della Repubblica. You will enjoy an excellent and complete introductory tour dedicated to those who want to know all the facts and secrets of two thousand years of Florentine history, from the city's Roman origins to a 15th century palace, from the Ponte Vecchio, through the famous Uffizi courtyard, to the wonders of the architecture of Brunelleschi's Dome which overlooks the Baptistery's golden 'Gates of Paradise'.
After the walking tour you will visit one of the most famous museums in the world: the Uffizi Gallery. Your knowledgeable guide will explain the works of the greatest artists from the Middle Ages. You will recognize original world-famous paintings you have seen in books, magazines, and on TV close-ups. You will learn about the secrets of the artists' craft, techniques and tools. Looking at the most famous artworks of the period, you will be able to understand why Florence was the birthplace of the Renaissance.
The tour ends in the Uffizi Gallery where you will have the chance to stay longer in the Gallery and wander around by your own.
Schedule
OPERATES: daily except for Monday and every first Sunday of the month
MEETING POINT: for the first part of the tour: Via Ricasoli, 58/60 (reserved ticket entrance gate, Accademia Gallery)
for the second part of the tour: Via Brunelleschi, 1 (in front of the Hard Rock Cafe)

TOUR DURATION: 4

 h and 45 min
DEPARTURE TIME: for the first part of the tour at 11:15 am (check in closes 15min before departure), for the second part of the tour at 01:45 pm (check in closes 15min before departure)
RETURN TIME: 

around 05:30 pm

TOUR ENDS: Uffizi Gallery Museum
Includes
Entrance to the Accademia Gallery and visit with monolingual guide (1 h)

Guided tour of Florence with monolingual guide

(1h 30min)

Entrance to the Uffizi Gallery Museum and visit with monolingual guide (2h)

Earphones will be provided only for groups with over 15 participants.
Highlights
Discover the heart of Florence

Visit two of the most famous museums in the world